Transcript: The Amidah is the pre-eminent central prayer of the Jewish prayer service. It's recited traditionally three times a day, morning, afternoon and evening, and it dates back to the time of the Mishnah, which is two thousand years ago. The Amidah means "standing prayer," but really rabbis didn't call it the Amidah, they called it HaTefillah, the "Prayer," capital "P." They regarded the Amidah as the pre-eminent prayer, and everything else—most especially the Sh'ma, and it's blessings—but everything else was ancillary to the Amidah.
The word tefillah, "prayer," comes from a reflexive root, hit-palel which I think might be a useful thing to contemplate in the practice, in the use of the Amidah. Hit-palel kind of means to reflect on oneself, or to oneself, to self-reflect. And many teachers over the centuries, including Rabbi Yehuda-ha Levi in the eleventh century, said that the purpose of prayer is not to evoke a response from God—we usually think of "I pray for something"—but the purpose of prayer is to engage in a spiritual practice every day, of sanctifying one's mind, satisfying one's virtues, settling in how to be grateful, how to do self-examination, how to notice the blessings of the world.
So prayer, we can think of—the Amidah we can think of—as the time to cultivate various spiritual attitudes. There are… the central piece of the Amidah, which is nineteen blessings, the fifteen central blessings are indeed petitions, are asks: "God, please heal me," "God, please give me knowledge," "God, protect me," "God, protect the righteous." And so I want to speak about how an Amidah practice, with all of the petitions, all of the requests, might serve us.
The key, I think, is to understand the ask as the answer. When I can bring myself to ask for help, and realize that I'm not in control, that I can't do this alone, that I need others to help me or I need some unseen force, some extra energy to help me, something we might call divine, when I say "I just don't know what to do, I need help," that, according to many, many Jewish prayer teachers—most especially, recently the Slonimer Rebbe, the Hasidic teacher—that "I need help," is the way to turn from our own self-concern and illusion of power and control, to open our hearts to be able to receive help. So when I'm in a desperate place, or I don't know what to do in this particular situation, I can say "I need help calming down," "I need help healing my angry heart," "I need help becoming more peaceful," "I need help not being so angry and outraged." When I say "I need help, please help me, I need help," that is a way to actually bring in the blessing of healing, of patience, of peace, of forgiveness.
So, a daily practice of the Amidah can be using the traditional prayer book and looking at the various petitions that exist in those fifteen that are offered to us, using the various requests that are offered to us as a smorgasbord, as an array of things that we might need to ask for, and to focus on one or two, or maybe every day the same one if that's what we need, focus on that particular petition, that particular need that we have. And to sit with it, or stand with it, in silence, taking three steps backwards and three steps forward, entering a divine space, being in a spiritual cocoon, a spiritual bubble where I can say "let me breathe, let me look at what I need, let me ask for help." and that is an Amidah practice that can be exercised morning, afternoon and evening, or at any time in the day
---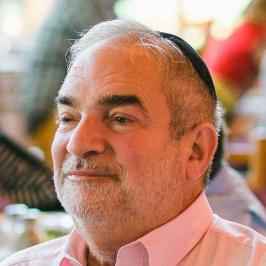 Rabbi Jacob Staub, Ph.D., graduated from RRC in 1977. Staub has served on the RRC faculty since 1983; he served as the College's vice president for academic affairs and academic dean from 1989 to 2004. He was instrumental in developing RRC's Spiritual Direction Program and has taught Jewish spiritual direction across North America, including at Spiritual Directors International and the Spirituality Institute of Metivta. He co-directs Bekhol Levavkha: A Training Program for Jewish Spiritual Directors at Hebrew Union College-Jewish Institute of Religion in New York. He has served as a faculty member and board member at Nehirim: GLBT Jewish Culture and Spirituality.