[Screen reads: "What is the Sh'ma?"]
In Torah, in Deuteronomy 6:4, as probably most of you have experienced, it is one of the most central prayers of Judaism. It's perhaps one of the first prayers we learn as a child, and actually it's supposed to be the last thing on our lips before we die. So it's really a lifelong prayer, and it's also said—we're commanded to say it—in the morning and evening, so there's something very central and basic about the Sh'ma.
The word "Sh'ma" means "listen," or "hear." So actually, instead of it being a blessing, it's a prayer to allow us to go inside of ourselves—to slow down, to quiet ourselves, to really listen to our truest inner selves. Sh'ma Yisrael Adonai Elohenu Adonai Echad. "Listen, Israel." And it ends with the word echad, there's a oneness, echad is the basic number "one," echad, shtayim, shalosh, "one, two, three." Echad means "one."
So how do we go inside of ourselves, to experience our own oneness, and then a connection with others. To see and to notice and to feel and to hear…to listen to a oneness in the world, a unity, it's hard. We're pulled this way and that in our lives, people telling us this, people telling us that. And it's important to come back to our center, to find that oneness inside of us, that echad, and the Sh'ma asks us to slow down, to quiet ourselves so we can hear the inner calling of our soul. It's said we're created b'tselem elohim, in the image of God, so we have the name of God, just that same, yud, hey, vav, hey, that's in the Sh'ma. it's in us, it's in our bodies, and we're called to find our center, that center vav, to find who we are at our core, at our center.
So we take a breath. And we hear the holy sound of our breath. Breath in, breath out, kolot kidusha, sounds of holiness. It's said that the breath, the nishima, which is so connected to neshema, is a holy sound. Our individual breath, and then the breath that we all make together collectively, becomes a oneness, a unity.
So as you all do the holy work of social justice in this world, it takes coming back to our soul—we're pulled this way and that way all of the time—and we want to find an emet, a truth inside of us, that the Sh'ma can bring us to.
Before we enter into a breath practice, when we're teaching. In the Sh'ma prayer in Torah, the last letter in Sh'ma is an ayin, and that's written large in Torah, the last letter of echad, sh'ma israel adonai elohenu adonai echad, the daled is also large. So those two letters ayin and daled, mean eid, a "witness." So you all in your holy work of doing social justice in the world, are bearing witness to the values that you hold, that you hold so dearly in your hearts that you live each day and that you work to bring justice and values and holiness to this world. You are an eid, a witness, and that's what we're commanded to do in Sh'ma.
So we're going to take the letters of Sh'ma, listen or hear the shin, the mem, and the ayin. We're going to focus on each letter and allow it to bring us to a stillness so we can really hear, and perhaps touch, that one inside of us, the one truth that connects us to everyone else in the world, giving us energy to do the social justice work that we're here to do. The sound of the shin, "shhh." The sound of the mem, "mmm." And the ayin leading us into the "ah" of sh'ma, "ahhh."
Try it with me:
Shhh
Mmm
Ahhh
And again.
Shhh.
Mmm.
Ahh.
Allowing the Sh'ma to bring you to a quiet, to a calm, and to a gratitude, "ahhh." As you practice this, if you'd like to bring a movement, so your body has a movement going along with it, something I've done for myself is the "shhh" [holds finger to lips], "mmm" (pulls both hands towards face], "ahhh" [pushes both hands gently forward and out from face].
Shhh [finger to lips]
Mmm [hands toward face]
Ahhh [hands away from face]
So may you be blessed with a peace that Sh'ma can bring to you. A oneness, an echad, so that you have energy, so that you're in the shefa and the flow of doing the holy work of social justice in the world. sh'ma israel adonai elohenu adonai echad
---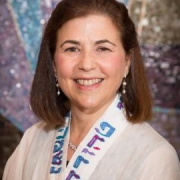 Rabbi Shelly Barnathan is a 2015 graduate of the Reconstructionist Rabbinical College. As a child of Holocaust survivors and raised in a Modern Orthodox home, Rabbi Shelly possesses roots that are firmly planted in Jewish prayer, text, and practice.  Rabbi Shelly is a "seeker",  taking  the traditional roots of Judaism and planting seeds of light into the world through acts of Tikkun Olam/Social Justice as well as creative Jewish practices such as chant, meditation,  poetry, and song. It is Rabbi Shelly's greatest wish to accompany members of the Or Zarua community on their personal Jewish journeys, helping each person to find the Or/light within each one of us, so that we can bring more light to our world, so in need of our care.