When the doors to the world reopen, I wonder, will I run to my next must-do?
In pre-pandemic times, my ShabbatShabbat is the Sabbath day, the Day of Rest, and is observed from Friday night through Saturday night. Is set aside from the rest of the week both in honor of the fact that God rested on the seventh day after creating the world. On Shabbat, many Jews observe prohibitions from various activities designated as work. Shabbat is traditionally observed with festive meals, wine, challah, prayers, the reading and studying of Torah, conjugal relations, family time, and time with friends. was spent in joyous busyness. On a typical Friday, after work, I'd race to the market, buy salad fixings and select a just right fruity white to bring to the Katz's for dinner. On Shabbat morning, my husband, Jay, and I would often set up thirty folding chairs in the family room, arrange the kiddushThe prayer recited over wine on Shabbat, holidays, and other joyous occasions. spread in the dining room, put out the prayer books, then open the front door to our havurahLit. Group of friends Commonly has come to mean an alternative prayer community. In the 1970's, havurot (plural) developed as an alternative to large syngagogues. Some havurot pray together; others study, socialize, or engage in some alternative activity., Or Zarua. Tasks, but not toil, made Shabbas different from the rest of week. Welcoming dear friends, good food, meaningful prayer and study. Full confession, Shabbat was never a day of rest.
Now it is.
This Shabbat, Jay and I sat by Cobbs Creek, for two hours. My feet cooled in the running waters as I watched him turn over rocks. He was on the hunt, reviving a boyhood hobby of searching for living treasures in babbling waters. We had discovered the creek, a mile from our house of 36 years, only after Governor Wolf ordered us to shelter in place. Before then, I had merely driven by on the way to my next must-do. Jay's hunt was not thwarted by lack of practice. I took a picture and sent it to our grandchildren. "Zaidie caught a crayfish."
Now, Shabbat is more in line with the day of menuchah (rest) commanded to us, because God, after six days of creation, rested. I am slowly, and I mean slowly, learning how to rest on Shabbat. By nature, or by habit, I suffer a busy mind, always thinking about and planning what comes next. Shabbat rest is still a practice in the making.
Highlights of pandemic Shabbat include physically distanced visits in our driveway with the Katzes or other friends. Paper cup l'chaims are especially sweet. And like so many, I now have learned to make challahBraided egg bread eaten on Shabbat and holidays. Reminiscent of bread eaten by Priests in the Temple, of manna in the desert, and sustenance in general. Plural: Hallot. That six-braided one remains elusive.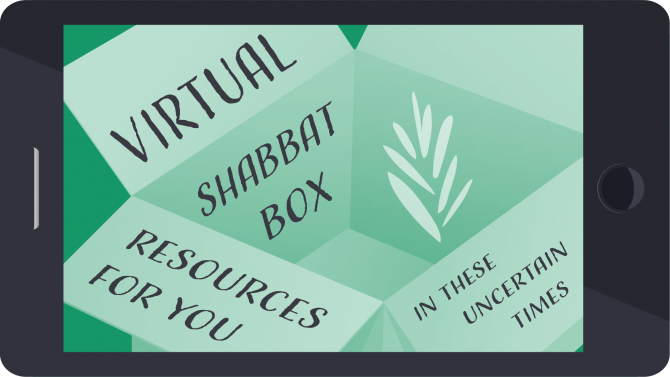 Zoom Shabbat minyanThe group of ten adult Jews needed to read from the Torah and to recite some of the most important communal prayers. In Orthodox communities, a quorum of ten men is traditionally required. Today, most liberal Jewish communities count all Jewish adults as part of a minyan. has done little for me. I've tried it repeatedly. But I find praying or learning via Zoom more work-like than spirit-filled. So for pandemic Shabbat enrichment, I regularly access Reconstructing Judaism's Virtual Shabbat Box (VSB). Every Thursday, with contactless delivery, the VSB arrives in my inbox. I click to find a variety of ways to engage while sitting on my sofa. Essays, videos, poetry, podcasts are weekly offered in the VSB and a welcomed part of my re-imagined Shabbat experience.
Tailormade for my ever-shrinking attention span are the five-minute meditations. In last week's VSB, Rabbi Shelia Peltz Weinberg encouraged me to lift my eyes and spirit with the Starlight Practice: "Imagine a star in the sky that is just for you," she instructed. "Feel the starlight, bringing ease, release the softness to you." I followed the practice easily, recalling the bowl and the handle of the Big Dipper that I've learned to identify on our late Friday night walks. (It helps that Jay is an Eagle Scout).
On the Shabbatot when my inner meter slows enough, I'll read an essay in the VSB about issues blasting in the headlines. The shift from news screech to thoughtful insight is comforting. Watching the Beit MidrashA rabbinic method of interpreting text, often through the telling of stories. recordings in the VSB hosted by Adva Chattler is another sofa VSB option. I've grown accustomed to Chattler's encouraging tone, to sit back and "learn a few pieces of TorahThe Five Books of Moses, and the foundation of all of Jewish life and lore. The Torah is considered the heart and soul of the Jewish people, and study of the Torah is a high mitzvah. The Torah itself a scroll that is hand lettered on parchment, elaborately dressed and decorated, and stored in a decorative ark. It is chanted aloud on Mondays, Thursdays, and Shabbat, according to a yearly cycle. Sometimes "Torah" is used as a colloquial term for Jewish learning and narrative in general. from our notable rabbis."
I do miss the joyous busyness I once knew. And I've grown grateful for long walks, crayfish, meditations and bits of Torah while sitting on my sofa. When the doors to the world reopen, I wonder, will I run to my next must-do? Or will my pandemic rituals, that foster true Shabbat rest, endure?
---
Cyd Weissman is the Vice President for Innovation & Impact at Reconstructing Judaism.