Celebrating the intersections of Black and Jewish culture, creativity and resilience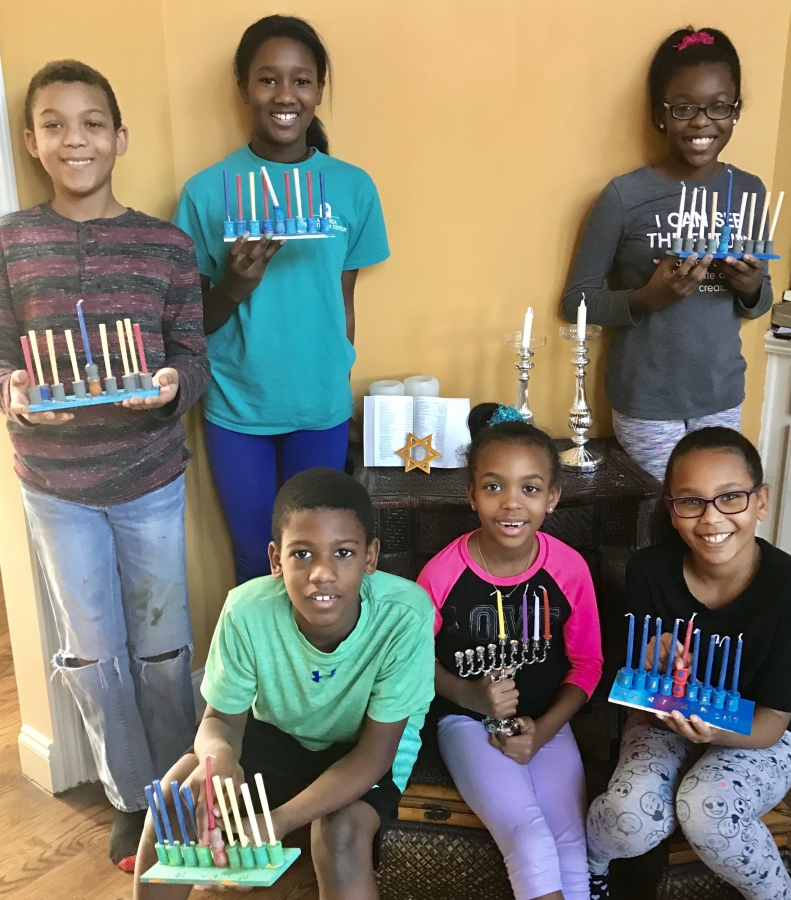 As a Black and Jewish person, I experience seasons, holidays, and cultural celebrations in a way that depicts my history, traditions and spirituality. These intersecting cultures shape my values, perspectives and future. HanukkahThe holiday which celebrates the rededication of the Temple in Jerusalem following its conquest by the Syrians in 165 BCE. The holiday is celebrated by lighting candles in a hanukiyah oon each of eight nights. Other customs include the eating of fried foods such as latkes (potato pancakes) and sufganiot (jelly donuts), playing dreidl (a gambling game with a spinning top), and, in present day America, gift giving. and Kwanzaa are cultural holidays I connect with my heritage and my people. These celebrations are a time of the year when I focus more on the power and symbolism of light. The act of lighting candles every evening for 8 days (Hanukkah) and 7 days (Kwanzaa) reminds me of my purpose (nia) to be a light in my community… to be good and make a difference in the world. As I light each candle on the menorahThe seeven-branched menorah stood in the Temple, and many present-day synagogues feature the menorah. Titus' arch depicts the Romans' sacking of the Temple and theft of the menorah. A nine-branched menorah called a Hanukkiyah is lit on Hanukkah to symbolize the miracle of the oil that burned for eight days. (Hanukkah) and kinara (Kwanzaa), I meditate on the memories and meanings of these celebrations. The foods of Hanukkah (fried foods) and Kwanzaa (fruit/crops) represent how we take what we have and make the best use of it. During Hanukkah, we eat fried foods cooked in oil to represent the oil that burned miraculously for 8 evenings. The fruit and crops in Kwanzaa represent the first fruits and the productivity of the harvest. Kwanzaa has seven key principles that are highlighted each evening the candle is lit and Hanukkah remembers the strength and resilience of the Maccabees. It focuses on the fight for the right for religious and cultural freedoms and the miracle of light.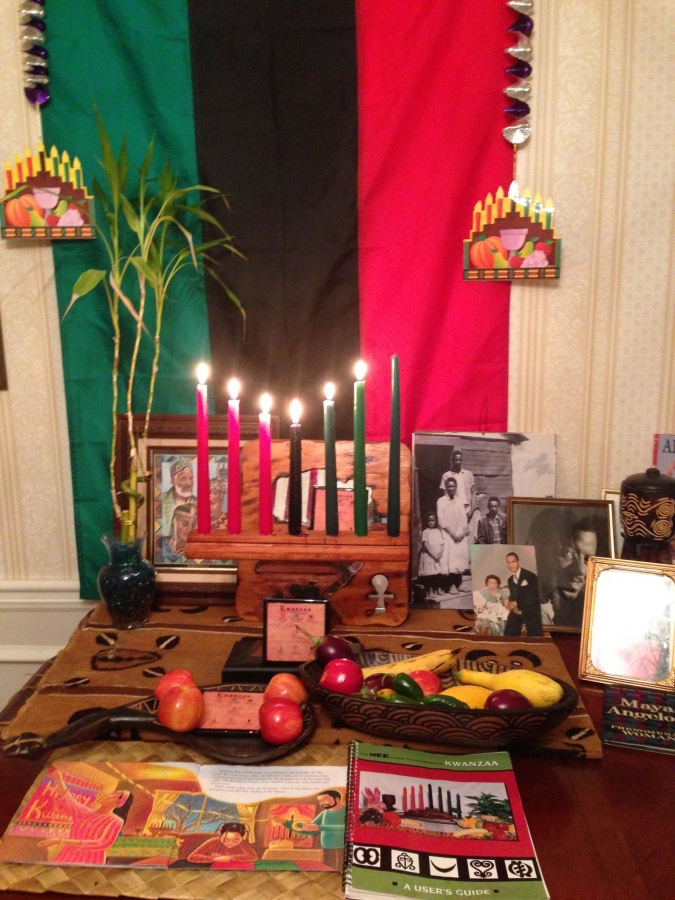 As a Black Jew, Kwanzaa and Hanukkah celebrations intersect. The Maccabees were warriors determined to unify to make their community better. They were self-determined (kujuchagulia) and spoke out and stood up for themselves. In unity (umoja) there is strength and the Maccabees demonstrated this in their war against the Greeks. In the Black American experience, we demonstrated community and unity in the civil rights movement alongside our Jewish allies. The Maccabees worked together to revolt against oppression just as Blacks did as slaves and as people fighting for justice, equality, and human rights. We, Blacks and Jews, took the responsibility to fight for, build up, and maintain our families (ujima). We worked together, analyzed, questioned, and resolved issues that impacted our communities. Kwanzaa reminds us of the importance of maintaining and sustaining community in addition to supporting one another financially so our people may thrive economically and spiritually (ujamaa). The culture of Judaism also encourages community support, financial independence, economic success, and fiscal responsibility.
Additionally, giving is a core value in the Jewish culture (tzedakahCharity. In Hebrew, the word tzedakah derives from the word for justice. Tzedakah is not seen as emanating from the kindness of one's heart but, rather, as a communal obligation.) because it ensures that we do our part to make not only our community great but the world a better place. Kwanzaa also focuses on the spirit of humanity and giving. We learn to be purposeful in our actions and to value being and doing good now. As a Black Jew recognizing Hanukkah and Kwanzaa, I understand the purpose (nia) of the Macabbeas, the struggle of the Black communities, the importance of liberty, and my individual purpose to fight for justice, equality, economic viability, peace, and love. Judaism comes from Africa and this connection, for me is commemorated in my celebrations and personal reflections of restoring our people to our traditional greatness.
As Blacks and Jews, we must be creative in our endeavors to be strong, powerful and resilient people. We must be purposeful in our pursuit of community, acceptance, and belonging. Creativity (kuumba) is also essential to our survival as our communities seek to be embraced, included, and respected. We must do all we can to leave a positive and powerful legacy to our children and to ensure they have a seat at the table. We must continue to demonstrate our collective spirit of justice and equality.
We are soulful Maccabean warriors purposefully fighting to create a fairer and just world for ourselves and our decedents. We have faith (imani) in ourselves and our people… we know that we have persevered slavery and oppression, and we will continue to overcome anything that tries to enslave and oppress us.
As we drink from the unity cup (kikombe cha umoja) and the kiddushThe prayer recited over wine on Shabbat, holidays, and other joyous occasions. (welcoming ShabbatShabbat is the Sabbath day, the Day of Rest, and is observed from Friday night through Saturday night. Is set aside from the rest of the week both in honor of the fact that God rested on the seventh day after creating the world. On Shabbat, many Jews observe prohibitions from various activities designated as work. Shabbat is traditionally observed with festive meals, wine, challah, prayers, the reading and studying of Torah, conjugal relations, family time, and time with friends.), we recognize our blessings and the importance of the revival of our souls and the peace in ourselves and our communities. We gather to reaffirm our historical bonds and show reverence for the beauty of light, life, peace, and love. We understand that in unity, we can overcome all evil and achieve greatness.
As a Black Jewish Woman I celebrate Kwanzaa and Hanukkah connecting the meanings, symbols, traditions, histories and celebrations to my Black and Jewish experience. I celebrate the history of liberation, purposeful unity of my people, the ingenuity of my community, the power of light, and the miracles that sustain my existence. I honor the universal values and principles of unity, self-determination, collective work and responsibility, cooperative economics, purpose, and faith. I am resolved and determined to live these values and principles not only during the month of December but every day.
Happy Kwanzakkah! Hag Sameakh! Happy Hanukkah! Habari Gani? Happy Kwanzaa!
---
Explore Dr. Johnson's Kwanzakkah ritual here. Dr. Tarece Johnson is an author, poet/speaker, activist, multicultural expert, entrepreneur and future political candidate. She is a Jew and a single mother with two pre-teens.